Google Apps for Business has a economical price point, 99.9% uptime, and redundant data centers. What is the core function of your company? Is it managing email? If not, are you happy with the ratio of resources applied to serving strategic initiatives vs managing your email infrastructure?
User Perspective - Ten years ago your access to the best technology was at the office. Now it's not unlikely that your home computer or device is better than anything they give you at the office. And consumer applications such YouTube, Picasa, Blogger, Facebook and Twitterchange the way you create, store and share information. What advances have been made at work? Have your email, word processing and collaboration applications improved at the same rate?
Business Gmail ...(Video) -
Email (@your_company.com) with 25GB storage, instant messaging, and voice and video chat

Google Calendar ...(Video) - Online, shareable calendars that make it easy to schedule meetings.

Google Docs ...(Video) - Online documents, spreadsheets, presentations, and forms. Plus, online storage for any type of file.
Google Sites ...(Video) -
Easy-to-create websites for intranets and team projects – no coding required.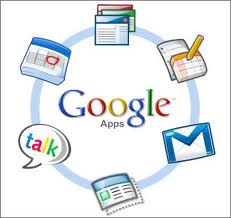 No matter where you are – at the office, at home or on the road – you can access Apps using any computer, tablet or mobile phone. Share and collaborate on documents in real-time even when you're away from your team.
You don't have to be a tech expert to use and manage Google Apps. It's simple and intuitive with with no hardware or software required.